ONLINE LIVESTREAMING OF OUR MASSES AND LITURGIES
WE CONTINUE TO LIVESTREAM THE HOLY MASS EVERY SUNDAY AT 10AM
Click the YouTube link below to view our Live Videos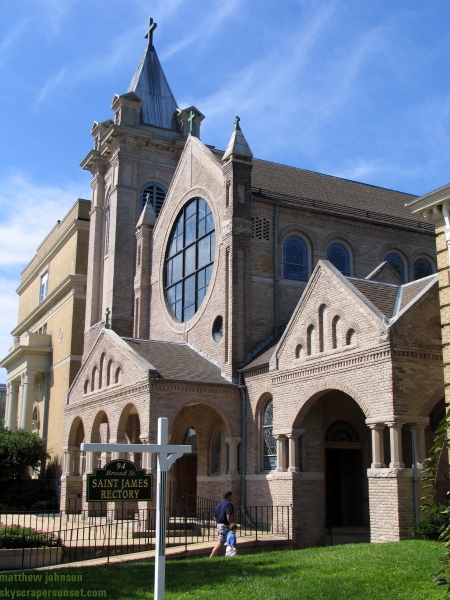 WELCOME BACK HOME!
The Church doors are re-opening for private prayer only starting Wednesday, May 13th, Feast of Our Lady of Fatima. The church is open from 8AM to 1 PM, Monday to Saturday. There is NO Mass yet until further notice. We are required to wear masks, maintain social distancing, and limit ourselves inside the church to no more than 10 people at a time. The bathroom will remain closed. The only entry is the front door from Broad St. Everyone is requested to exit the side door by the Blessed Mother's altar. One-way movement helps to maintain social distancing.
Welcome back! Praise God!!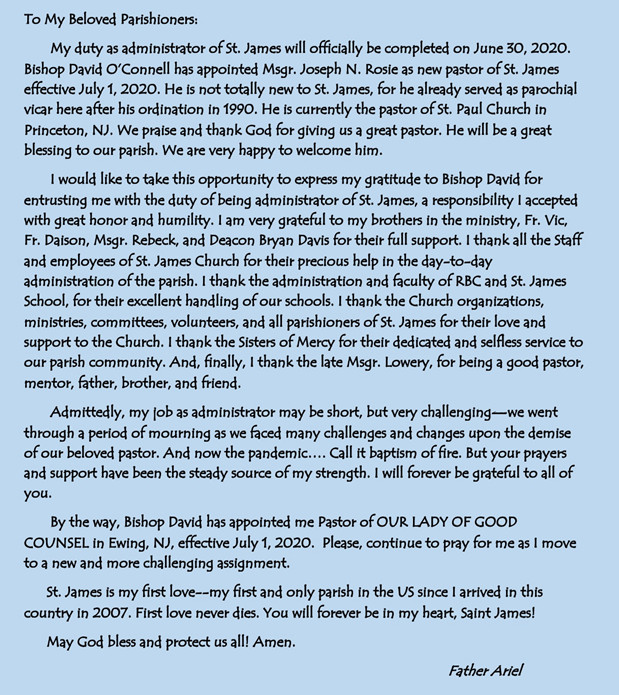 UPDATED 3/20/2020 MESSAGE FROM FR ARIEL ROBLES, ADMINISTRATOR, ST JAMES CHURCH
In conjunction with the worldwide battle against the spread of COVID-19, Bishop David O'Connell has suspended all public Masses and scheduled parish Confessions and other public gatherings, as he mandated the closing of all churches and chapels in the Diocese of Trenton until further notice.
At the same time, he has granted DISPENSATION from the OBLIGATION to attend Sunday Mass until further notice. He has recommended that the faithful continue to pray and take advantage of Holy Mass as broadcast on TV. For the full text of Bishop O'Connell's statement go to https//www.dioceseoftrenton.org/coronavirus. Here you will also find links to livestreamed Masses.
Additionally, the Bishop is also granting Plenary Indulgence to the faithful suffering from Coronavirus, health care workers, family members and all those who, following the example of the Good Samaritan, take care of those affected by the virus.
With public Masses temporarily suspended, please know, that the priests of St. James will continue to celebrate the regularly scheduled Masses in private. This is to fulfill the scheduled Mass intentions and to pray for our parish community and the rest of the world. Please, join us in prayer from the privacy of your home. We are called to be prayer warriors. This battle is tough, but we have the most powerful weapon – PRAYER.
CORONA(ANTI)VIRUS PRAYER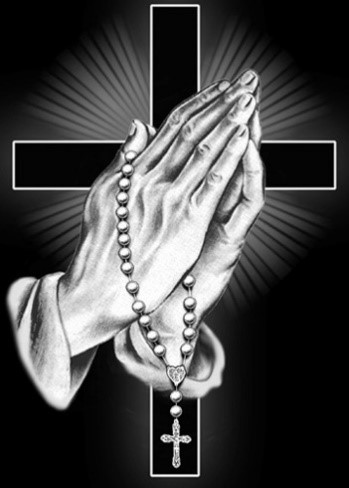 Jesus Christ, you traveled through towns and villages "curing every disease and illness." At your command, the sick were made well. Come to our aid now, in the midst of the global spread of the coronavirus, that we may experience your healing love. Heal those who are sick with the virus. May they regain their strength and health through quality medical care. Heal us from our fear, which prevents nations from working together and neighbors from helping one another.

Carry in your arms those who have died from the virus, and bring them Home. Be with the families of those who are sick or have died. May they know your peace.

Be with the doctors, nurses, researchers and all medical professionals who put themselves at risk in serving the sick. May they know your protection and peace.

Be with the leaders of all nations. Give them the foresight to act with charity and true concern for the well-being of the people they are meant to serve. Give them the wisdom to invest in long-term solutions that will help prepare for or prevent future outbreaks.

O Lord Jesus Christ, stay with us as we endure and mourn, persist and prepare. In place of our anxiety, give us your peace.

Jesus Christ, heal us. Amen